---
Allan Strachan's Beau in Scotland.

Alan titles this "The Lord of the Manor"
(is that because he's showing off his family jewels Allan?)



---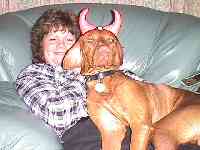 Another one of Beau as the little devil.
---
Mary Chelton's Beamer.

What can you say... one very cute puppy.



---
Wanda Berner says:

"When I awoke, I found no Christmas leftovers in the fridge, but the surveillance camera had caught the culprits on film."

Tom and Max - you have been caught, but you were only looking to find the culprits that were stealing all the food, wern't you?

Looking for clues?



---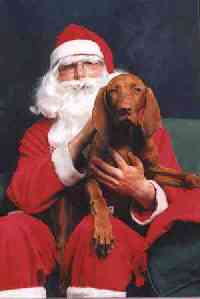 Greg Mackie sent in these photos of Roy

Roy is 16 months old, all my friends and family just adore him - he is soooo spoilt - when he was very young the "rule" was that we would not let him on the bed - you know - start how you want to finish ! now he not only gets on the bed he gets in it !!!! (I don't tell too many people that!) Roy is a great wee dog - is happiest just doing whatever we are doing. Recently we camped in Kaikoura (a camp where dogs are allowed) he seems to draw people in like a magnet - everybody asking "can we pat him ?" then, "what is he ?" of course I sing his praises because he is just the best !!!
---
Andras sent these photos from Holland.
---
Chris and Carolyn Jepsen sent in this photo of Kasey

This is our 1 1/2 year old, her name is Kasey. The pic was taken at 1 year and 3 months on the waterfront in Boston, Mass. USA.