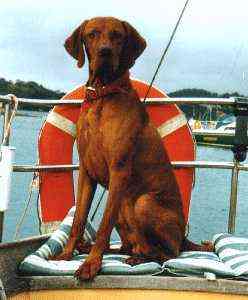 Image: Rumer (Ch Huntsberry Diamond Rumer) proud on the poop deck
Dictated by Rumer (with typing by Darryl Walker)
I dug my heels in and didn't want to go, but I was picked up and dumped on the deck of a 32-foot yacht. I was terrified,. I like swimming as much as the next Vizsla, but a frolic in the surf is no training for a marathon escape to the beach.
It got worse. The backyard on this boat was only just big enough for me to turn around in and there was nowhere to pee. Cocking my leg was out of the question as soon as we set off, because the floor tipped over. It was worse than surfing the back seat on one of My Dad's bad driving days .
We'd gone to the Bay of Islands with our friend Ron. His dog, Watson the Schnauzer, is my best friend but he was on Show duty and didn't come. I should have been at the Show too. But My Dad wanted to go sailing and I wanted to go with him.
I changed my mind as soon as I got there. The boat Ron dragged into the water was tiny. By the time Ron and My Dad got in it was already starting to sink. I barked up a storm and raced off to hide.
When I got back, My Dad and Ron had disappeared. I thought they had sunk, but My Mum said they had gone out to the yacht. I wanted My Mum to come and hide too, but she said we'd be safe. That was before she noticed the leak in the dinghy, but I trust her. If I thought the dinghy was tiny, the yacht wasn't much bigger. The deck was so cramped, I could hardly get all fours on the floor at once.
Below deck was a bit better, full of polished wood with lots of food and Watson smells. It was small, dark and cozy - like my kennel at home.
Back on deck, all I could see was water and more boats. The first time I looked over the side there was another Vizsla with a terrified look on its face looking straight up at me. I was too scared to look again.
Instead I went and sat close to My Mum. We watched Ron take charge, shouting orders as My Dad put up the sails. I have to say My Dad is more obedient that I am, and so keen to please he'd be a good Vizsla.
It was about now that the floor started to slope. I closed my eyes and gripped the seat. My Mum put a comforting arm around me, but I think she was just holding on too.
The shifting floor is the worst part about sailing, but mostly it's fun. Everything is so cramped nobody minded me getting in the way. In fact I've never had so much attention. I got the best seat, the best view. I slept on My Mum's bed up front. Even My Dad wasn't allowed to do that.
Early in the morning and late at night, My Dad took me in the dinghy to the nearest beach. Like going to the park, only better. I stood up front with my paws hanging over the edge. The breeze blew salty air up my nose and made my ears fly. Exploring new beaches in the dark was spooky. Once I was barking like mad at a dog hiding under a tree, but My Dad said it was only seaweed caught on a branch.
My Dad is braver than me.
We also went swimming a lot. Usually we drive to the beach, but this time we had to swim. My Mum and My Dad were amazing. You didn't even have to throw a stick to get them into the water. My Mum swims a bit like a Vizsla - at least she looks like she's trying to keep her ears dry. My Dad splashes a lot but can't swim as fast as me.
I never did get the hang of jumping on to the boat and needed help or at least a pat every time. Ron kept trying to wind me up, saying his dog Watson didn't need help. But I reckon I had the last laugh. You and I both know I could have done it easily. But I'm a Vizsla and smarter than a Schnauzer. I know how to make sure I get all the attention, all the time.. even when I'm all at sea.